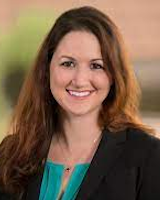 Alicia Jurney
Firm: Smith Debnam
Location: Raleigh - NC
The Landmark Center




4601 Six Forks Road, Suite 400




Raleigh, NC 27609
Tel : 919.250.2000

Fax : 919.250.2100

Email : ajurney@smithdebnamlaw.com

Alicia Jurney's creative approach to solving clients' problems, coupled with her caring spirit, is a valued component of the family law team at Smith Debnam. Always up for the challenge of a new and unique case, she possesses the legal knowledge and intuition to quickly grasp the essential issues which, together with her natural ability to facilitate negotiation, allow her to move a client's case forward in an expeditious and effective manner. She derives true satisfaction from assisting her clients through the complex and challenging issues involved in separation and divorce.
Alicia is a partner at the firm and a North Carolina Board Certified Family Law Specialist in the firm's family law practice group. She represents clients in child custody, child support, domestic violence, equitable distribution, and alimony matters. Her experience with domestic actions includes handling related complex civil litigation matters, such as tortious interference with child custody, alienation of affections, criminal conversation, and interstate child abduction. Alicia also has significant experience representing clients in other civil disputes, such as cases involving defamation, unfair and deceptive trade practices, and will caveats.  Her practice encompasses all levels of jurisdiction within North Carolina, including jury trial experience and appeals to both the North Carolina Court of Appeals and Supreme Court.
Alicia is an alumna of the firm's summer associate program, graduating from Campbell Law with honors.  Upon graduation, she received the CLS Alan & Mary Button Service Award and the Fred O. Dennis Award, and was elected a member of the Order of Barristers.
Alicia has been recognized by her fellow lawyers as a Rising Star through North Carolina Super Lawyers®, an award presented to attorneys under the age of 40 who have demonstrated an exceptional ability in the practice of law. She is listed as a Best Lawyer in The Best Lawyers in America©, an established benchmark of legal excellence. Alicia serves as the Chair of the Board of Directors for Haven House Services, a non-profit agency that helps struggling young people and their families develop positive and successful relationships at home, at school and in the community.  She is also a collaborative attorney with The Integrated Accountability and Collaborative Transparency Program (IACT),  developed as a pathway to medical disclosure and transparency in resolving patient/provider conflicts resulting from medical error.
Admissions
Education
J.D., cum laude, Campbell University, 2007
B.A., Honors, Political Science, Wake Forest University, 2004; Minors, Asian Studies and Mandarin Chinese
Certifications
North Carolina Board Certified Family Law Specialist
Professional Affiliations
American Bar Association
North Carolina Bar Association, Family Law Section Children's Issues Committee Co-Chair; Legislative Committee
Wake County Bar Association; Ask-a-Lawyer Day Chair 2009-Present
Council Member of the Dispute Resolution Section of the North Carolina Bar Association – 3-year term
Primerus International Society of Law Firms, Family Law Practice Group
Awards & Recognition
Listed among Best Lawyers in America – 2016, 2017, 2018, 2019, 2020, 2021, 2022, 2023
Listed as a Rising Star in North Carolina Super Lawyers 2012 – present
Listed as 2013 Business North Carolina's Legal Elite, Young Gun
Listed among North Carolina Legal Elite – 2022
---
Smith Debnam
Smith Debnam is a well-respected law firm in Raleigh, North Carolina. Our family law attorneys have an excellent reputation for effective advocacy and a responsible, caring approach to meeting the needs of our clients. With Board Certified Family Law Specialists leading our team, we will carefully listen to you in order to understand your unique situation and craft the most effective strategies and solutions to serve your family's best interests. Our family law team is focused on helping you move forward – legally, financially, and emotionally.
When you have a legal issue related to family law, you need reliable legal advice. From visitation rights to domestic violence issues, our Raleigh family law attorneys offer a comprehensive set of legal services for North Carolina families throughout central North Carolina. We take our legal responsibilities seriously, and we are dedicated to guiding you and your family through the entire legal process. Whether you are just beginning your divorce or separation, or you are in need of legal assistance with a dispute involving alimony, child support, and child custody, the Family Law team at Smith Debnam will be with you at every step of the way.