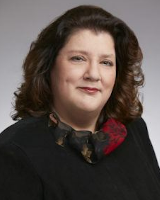 Carolyn M. Grimes
Firm: Wade Grimes Friedman Meinken & Leischner
Location: Alexandria - VA
616 N Washington St.




Alexandria, VA 22314




USA
Tel : 703-836-9030

Fax : 703-683-1543

Email : cgrimes@oldtownlawyers.com

Carolyn Grimes is a partner in the firm, practicing in all areas of family law including divorce, spousal support, child custody, child support, equitable distribution, retirement issues, and prenuptial agreements, among other areas. She practices in all of the Circuit and Juvenile and Domestic Relations Courts in Northern Virginia and has argued before the Court of Appeals. She has lectured on family law topics ranging from custody to retirement issues, including military, federal, civilian and Foreign Service retirement issues, for various organizations in the Commonwealth. In addition to traditional litigation, Ms. Grimes practices law in the collaborative law model. She is also a mediator herself.
Consistently named a 'Best Lawyer' (from 2014-2023), Ms. Grimes has also been honored as an AV Preeminent (2001-2022) and Gold Client Champion (2019-2021) by Martindale-Hubbell. In addition, she's been named a Top Lawyer by Northern Virginia Magazine Magazine (2011, 2015, 2017, 2019, 2020, 2021), a Top Attorney by Arlington Magazine (2019-2021), and a Top Attorney by Washingtonian Magazine (2015) as well as many other top attorney designations— see full list below. Ms. Grimes actively serves the community as well. She was the 2009 and 2006 President of the Board of Directors for Legal Services of Northern Virginia (LSNV), has served on its Board for many years and has performed many hours of pro bono work for the organization. She is a Past President of the Alexandria Bar Association, for which she has co-chaired the Pro Bono and Community Service Committee and chaired the "Beat the Odds" Program, a scholarship program for youths who have overcome adversity. She also participated in the American Bar Association program offering legal assistance to victims of the September 11, 2001, attacks.
In addition to traditional settlement and litigation practices, Ms. Grimes also practices in the area of collaborative law. Collaborative law is a process of alternative dispute resolution designed to keep the parties out of court. Counsel who have been trained in the collaborative law process and other professionals, such as financial professionals and custody experts, engage in a series of meetings with the clients designed to develop creative solutions to the issues in a divorce and agree on peaceful, practical solutions. Ms. Grimes has been trained in the collaborative model since 2006 and practices in this model as well as more traditional settlement or litigation models. She is also a member of the International Academy of Collaborative Professionals (IACP).
Ms. Grimes is also a mediator and can act as the neutral mediator for both parties. Mediation is also an alternative dispute resolution process designed to have parties agree outside of court proceedings. If you are interested in using Ms. Grimes as a mediator, please contact our office. One party may initiate the contact to set up the appointment but as a mediator, she needs to meet with both parties together for the mediation process.
2021-2022 AV Judicial Edition Preeminent by Martindale-Hubbell
2001-2022 AV Preeminent by Martindale-Hubbell
2022 Best Divorce Lawyer in Alexandria, VA by ThreeBestRated
2021 Woman Leader in The Law
2019-2022 Client Champion by Martindale-Hubbell
2018, 2021 Client Champion Silver Award by Martindale-Hubbell
2019-2021 Top Attorney by Arlington Magazine
2019 Gold Member by the Rule 6.1 Society for the Legal Services of Northern Virginia
2014-2023 Best Lawyers in America, U.S News & World Report
2019 Top-Rated Lawyer by Avvo
2016-2017 Top Rated Lawyers in Virginia, Richmond Magazine, Washington Post Magazine
2017 Best Women Lawyers in Virginia by Virginia Living magazine
2015 Top Attorney Washingtonian Magazine
2016 Top Rated Family Law Lawyer
2014-2019 Avvo.com Rating of 10.0
2011 Virginia's Leaders in the Law for 2011
2007-2022 Super Lawyers for Northern Virginia and Washington D.C.
2017-2022 Super Lawyers Top 100 in Virginia
2017-2022 Super Lawyers Top 50 Women in Virginia
2019, 2008, 2013-14 Legal Elite by Virginia Business Magazine
2011 – 2022 Top Lawyer by Northern Virginia Magazine
2018 Top Lawyer by Virginia Living magazine
2006 Local Bar Leader of the Year, Conference of Local Bar Associations, VSB
2001 Northern Virginia Pro Bono Attorney of the Year award, LSNV
2011-17 Virginia State Bar Council, Elected
---
Wade Grimes Friedman Meinken & Leischner
For more than three decades, spouses and parents throughout Northern Virginia, including Alexandria and Fairfax, have turned to our family law attorneys for advice about a wide variety of legal matters. Throughout the most complicated conflicts and dilemmas, we draw on our deep experience gained in the courtroom and at the negotiating table to craft individually tailored solutions to each client's family difficulties.