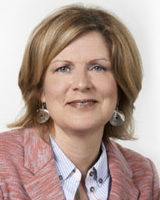 Frances Ross Nolan
Firm: Nolan Byers PC
Location: Birmingham - AL
301 19th Street North




Birmingham, AL 35203




United States
Tel : 205.314.0638

Fax : 205.255.3520

Email : frances@nolanbyers.com

Frances is not your typical attorney. She was inspired to become a lawyer by the struggles of her parents and numerous friends for whom the divorce process was especially challenging. Having studied psychology and social science in college, divorce law provided the perfect marriage of her educational experiences with the opportunity to make a personal difference in the lives of others.
Raised in Birmingham most of her life, Frances is the daughter of an Episcopal priest and a theological educator. The youngest of four children whose parents divorced after 25 years of marriage, Frances has personal insight about the experience of divorce from a child's perspective. The law is a second career for Frances; she went back to law school after more than twenty years of working in sales and management, and after spending several years as a full-time mom. Divorce law provided the perfect marriage of her personal experiences, her educational background, and her longing to help people through challenging times. Frances brings new meaning to the term, "counselor at law."
After practicing family law at The Crittenden Firm, PC for eight years, she and colleague Leigh Byers co-founded Nolan Byers, PC. Together, they designed a boutique family law firm that is dedicated to empowering clients who face the stress inherent to divorce and other matrimonial law matters.
Frances works to understand each client's goals and concerns and to educate them about options for achieving their desired outcomes. For some, the traditional court process provides the structure and security required. For others, private, out-of-court methods may be preferred.
Frances was instrumental in bringing Collaborative Divorce to Alabama. As a certified Collaborative lawyer, Frances co-founded and served as the inaugural President of Alabama's first Collaborative Practice Group, Birmingham Collaborative Alliance (BCA).
Collaborative Divorce is a no-court, private and consensual process in which the parties are provided the support of an interdisciplinary team of professionals all trained to support them in the process of restructuring their families for life after divorce. Collaborative Divorce is a forward-looking process that rather than assessing blame, is designed to empower its participants to create a durable plan for the future that maximizing the best outcomes for the whole family.
"The skills I've learned in my collaborative work are transferable to every case," Frances says. "There's a degree of empathy that I can have for clients as a result of my training to become a collaborative professional. It's given me invaluable knowledge that I would not have had otherwise."
Although dedicated to the advancement of alternative practices in dispute resolution, Frances is also trained in litigation. Her goal is to provide quality legal representation suitable for each client's circumstances, goals and legal issues.
Frances is married to William G. Nolan (Bill), an attorney practicing in the area of Elder Law. They are the proud parents of one son, William G. Nolan, Jr. (Will), who is currently in medical school.
---
Nolan Byers PC
We created our boutique family law firm, Nolan Byers, PC in March, 2013 with the goal of providing our clients with strong support to deal with what comes next. With a combined twenty years of experience, we have learned that family law matters always involve both an emotional and legal process. We want our clients to feel empowered to face these challenges and address the things they value most. Having seen the negative effects of cookie cutter divorce agreements and one-size-fits-all litigation, Nolan Byers provides a customized approach tailored to the specific needs, goals and interests of the individuals we serve and in every case, we apply our experience and expertise to achieve the best possible outcomes for our clients.