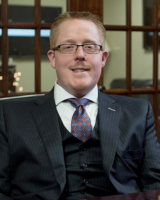 Jeffrey A. Hensley
Firm: Hensley Legal Services PLLC
Location: Tulsa - OK
427 S Boston Ave #402




Tulsa, OK 74103




USA
Tel : 918-398-5692

Fax : 918.794.6699

Email : jeff@hensleylegalservices.com

Jeffrey A. Hensley, Esq., is a family law attorney in Tulsa, Oklahoma. He is the principal attorney and president of Hensley Legal Services, PLLC, and he represents clients throughout northeast Oklahoma in divorce-related matters including division of family assets, child custody and support, spousal support, fathers' rights, grandparents' rights, guardianship, visitation and paternity issues. With experience in both mediation and litigation, Mr. Hensley works diligently to resolve matters without taking the issue to court whenever possible, but he fights vigorously for his clients' rights in the courtroom when it is necessary.
After earning two undergraduate degrees, a Bachelor of Science in biology from Oklahoma City University in 2001 and a Bachelor of Arts, cum laude, in English from the University of Tulsa in 2005, Mr. Hensley earned his law degree in 2008 from The University of Tulsa College of Law. That same year, he was also awarded the CALI Excellence for the Future Award in Social Security Disability law.
Following law school, in 2008, Mr. Hensley took a position working as an associate attorney at the law firm of Best & Sharp, P.C., in Tulsa. In 2010, he became a partner in another Tulsa law practice, the Pilkington Law Firm, PLLC, and in 2013, he left to open Hensley Legal Services, PLLC. Mr. Hensley is admitted to practice in Oklahoma and before the U.S. District Courts for the Eastern, Western and Northern Districts of Oklahoma.
To keep current with the latest developments in his area of practice and to forge good working relationships with his colleagues, Mr. Hensley maintains memberships in several professional organizations, including the American, Oklahoma and Tulsa County bar associations.
---
Hensley Legal Services PLLC
Hensley Legal Services, PLLC, in Tulsa is focused on hands-on representation for clients throughout northeast Oklahoma dealing with the life-changing impact of divorce. The end of a marriage combines legal complexities and emotionally charged issues.
In consideration of those personal issues, we get to know you, who you are, and the events that led you to our law office. We take into consideration various relevant factors, including:
Assets and debts on both sides
Employment status of both spouses
Physical and mental health of all parties, specifically children
Age and adjustment of children
Support system available to the family
We also spend the time necessary with you to assess your goals and educate you on your rights in child custody and support, property division, and paternity matters. Once we take on your divorce case, we remain accessible throughout the entire process — with a two-hour callback time frame — and provide continuous updates on the progress of your case.