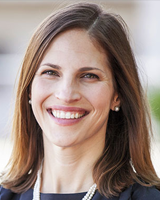 Jennifer deGraauw
Firm: Terry & deGraauw, P.C.
Location: Albuquerque - NM
2501 Rio Grande Blvd NW, Suite B




Albuquerque, NM 87104




United States
Tel : (505) 206-5044

Fax : (505) 206-5048

Email : Jennifer@nmdivorcelawyers.com

As a family law attorney, Jennifer deGraauw takes a personal approach with each of her clients and tailors her representation to each client's individual needs. Her attention to detail and thoroughness is what her clients appreciate most about her representation.
Jennifer represents a range of individuals with family law issues involving complex property division, child custody, child support, spousal support, asset tracing, and valuation issues.
Jennifer was recognized by the New Mexico Board of Legal Specialization as a Certified Specialist in Family Law through 2017 when the board was discontinued. Jennifer was also appointed by Supreme Court Chief Justice Petra Maes to serve on the Supreme Court of New Mexico Domestic Relations Rules Committee. In her role as a committee member Jennifer drafts rules and forms that govern all domestic relations and divorce cases in New Mexico.
While Jennifer has extensive trial and litigation experience she is also a skilled negotiator and trained Collaborative law practitioner. She has been the President of the New Mexico Collaborative Practice Group and is a member of the Albuquerque Collaborative Practice Group and the Bridge Practice Group.
Jennifer is actively involved in the State Bar of New Mexico as a board member of the Albuquerque Bar Association. She has frequently been asked to speak at continuing legal education courses for attorneys in the areas of child support, paternity, same-sex parentage, artificial reproduction technology issues and complex property division.
Jennifer earned her bachelor's degree in Business from the University of Kansas. While at the University of Kansas she earned her Certificate in Political Issues of Northern Ireland from The University of Cork in Cork, Ireland. She earned her Juris Doctorate degree from the University of New Mexico School of Law.
---
Terry & deGraauw, P.C
If you're facing divorce or other family law issues in Albuquerque, New Mexico, you don't have to go it alone. At Terry & deGraauw, P.C, many of our clients worry that filing for divorce means the beginning of a journey that will take up years of their life and too much of their money.
The family law attorneys at Terry & deGraauw, P.C. in Albuquerque, NM not only specialize in family law, they specialize in working with busy professionals. We understand the time demands of career and family life, so we make staying on top of your case easy for you. Our clients have constant access to their case information through our staff and receive electronic copies of all relevant documentation.
Terry & deGraauw, P.C. combines individualized attention and web-based technology to provide our clients with current information about their cases. Contact our office for an initial consultation.
The New Mexico family lawyers at Terry & deGraauw, P.C. are family law specialists certified by the Supreme Court of New Mexico. They have the experience and knowledge to provide sound advice, effective negotiation and compassionate representation clients need to help protect the integrity, health and financial stability of their families.