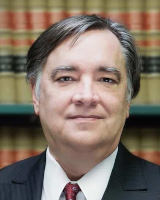 Jim Dunnam
Firm: Dunnam & Dunnam L.L.P.
Location: Waco - TX
4125 West Waco Drive




Waco, Texas 76710




USA
Tel : (254) 753-6437

Fax : (254) 753-7434

Email : jimdunnam@dunnamlaw.com

Jim Dunnam is a Board Certified Specialist in both Civil Trial Law and Family Law.  Jim was born and has spent his entire life in Waco.  He graduated from Baylor University in 1986 with a Bachelor of Business Administration degree and from Baylor Law School in 1987 with a Juris Doctor degree.
Since being licensed to practice law in 1988, Jim has worked as a member of Dunnam & Dunnam, where he is a partner. A considerable portion of Jim's time outside the office is spent working with his Labrador Retrievers, Daisy and Willow – frisbee being the preferred game of choice. Daisy and Willow are also weekly fixtures in Jim's office as the Dunnam & Dunnam unofficial mascots. Jim has been married to his wife, Michelle, for more 35 years, and the have three children and two grandchildren.
Jim was named Young Lawyer of the Year by Baylor University in 2001. Voters have named Jim one of Waco's Best Trial Lawyers and Best Business Lawyers in Wacoan Magazine on multiple occasions.. He is AV Rated Preeminent by Martindale-Hubbell and regularly selected as Super Lawyer. Among other positions, Jim has served on the Texas Supreme Court Rules Advisory Committee and the Texas Sunset Advisory Committee. During that time, he oversaw the full evaluation and re-authorization of the State Bar of Texas and the State Board of Law Examiners.  Jim is a member of numerous organizations, including the Masonic Lodge, York and Scottish Rites and the Karem Shrine.  He is also a member of the American Board of Trial Advocates (ABOTA).
In addition to being licensed to appear before the Texas Supreme Court and all other Texas Courts, he is admitted to practice before the United States Supreme Court, the U.S. Court of Appeals Fifth Circuit, and the U.S. District Court for the Western District of Texas.  He is also licensed to practice law in the State of Colorado.
During his 14 years as a Texas State Representative, Jim served on the House Select Committee on Judicial Interpretation of the Law and the House committee responsible for oversight of Family Law and the Texas Family Code.  Jim has received numerous awards and recognitions, including:
2022 Best Trial Lawyer, Wacoan Magazine
2020 Best Trial Lawyer, Wacoan Magazine
2019 Best Trial Lawyer, Wacoan Magazine
2019 Best Business Lawyer, Wacoan Magazine
AV Rated Preeminent, Martindale-Hubbell
Super Lawyer, Thomson Reuters 
2011 Star of Texas Award, Texans Uniting for Reform & Freedom
Named one of "The Most Influential Lawmakers of 2009" by the Associated Press
Called "The Third Most Powerful Member of the Texas House in 2009" by Capitol Inside Online Magazine
Honored as one of the 2007 "Ten Best Legislators" by Capitol Inside Online Magazine
Designated as a 2007 "Honorable Mention" by Texas Monthly Magazine
Received the 2007 "Smart on Crime Award" from the Texas Criminal Justice Coalition
Named one of the 2005 "Ten Best Legislators" by Capitol Inside Online Magazine
Named one of the 2003 "Ten Best Legislators" by Capitol Inside Online Magazine
---
Dunnam & Dunnam L.L.P.
Our family law team has earned a reputation as aggressive, trusted, and respected attorneys. Opposing parties and counsel take notice when Dunnam & Dunnam lawyers are hired in a family law matter. Three lawyers at the firm are board-certified in family law. If you need a family law attorney in Waco, Texas, or Central Texas, Dunnam & Dunnam and its attorneys can help.
We are a family-owned law firm that values personalized care and takes the time to build trust so that we can better serve you. We know how important family is to our clients. There is no case too big or small for us to handle. We have a diverse team of family law attorneys. With 95 years of experience, we have done it all. We believe that family is the most powerful unit on earth. Our family has helped Waco families for generations. Let us help yours too.
Family law matters involve the worst distress that our clients have ever felt in their lives. We understand that you need someone fiercely on your side while you are parting from someone you used to trust. The anxiety about your relationship with your minor children is a heartbreaking struggle. You are probably afraid of losing half of everything that you own. We will work with you to get the best possible outcome. As a dedicated Waco family law practice, we establish close-knit working relationships with our clients, resulting in healthy and robust representation with compassion, empathy, and understanding.