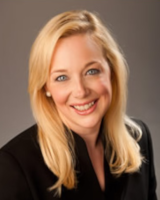 Kristen B. Amonette
Firm: Lindsey + Amonette + Nemer, PLLC
Location: Nashville - TN
One American Center




3100 West End Avenue Suite 860




Nashville, Tennessee 37203
Tel : 615.313.3991

Fax : 615.313.3968

Email : KAmonette@lindseyamonette.com

An experienced family law attorney and mediator, Kristen is always prepared.  She is a tenacious advocate with a practical, down-to-earth problem solving approach.
Kristen works for her clients to generate solutions designed to provide for and protect their children, preserve their accumulated wealth, and build a secure financial future.
Kristen draws on her background in general civil litigation, business law, contracts, estate planning, and probate in representing clients with a variety of interests, some fairly straightforward and others complex.
Kristen has been recognized as a Mid-South SuperLawyer for the past six years, a "10 Best" Family Law Attorney for Client Satisfaction in Tennessee by the American Institute of Family Law Attorneys, a Top 10 under 40 Family Lawyer in Tennessee and a Top 10 Family Lawyer in Tennessee by the National Academy of Family Law Attorneys, a Top 40 under 40 Family Lawyer in Tennessee by the American Society of Legal Advocates, a Top 40 under 40 Trial Attorney by The National Trial Lawyers, a Top 100 Lawyer by The National Advocates.
While litigation may be necessary or inevitable, years of trial work have strengthened Kristen's commitment to alternative dispute resolution, as it increases client involvement and control in the overall outcome.  Kristen is a Tennessee Supreme Court Rule 31 listed family law mediator and she regularly mediates family law matters. She is also a founding member of the Middle Tennessee Collaborative Alliance and has an active, successful collaborative family law practice.
Kristen's practice includes all areas of family law, including international and domestic divorce and custody matters, post divorce matters including modifications of alimony, child support, and parenting plans, orders of protection, terminations of parental rights and adoptions, parentage matters, prenuptial and postnuptial agreements, domestic partnership agreements, juvenile law, dependent and neglect matters, probate law, and estate planning.
Kristen served as the Co-Chair for the Domestic Relations Committee of the Nashville Bar Association from 2011-2018. She is a past board member and past chair of the membership committee of the Middle Tennessee Collaborative Alliance. She produces continuing legal education seminars regarding hot topics in family law and is also a writer and speaker on timely family law, estate planning, and probate issues. She is the co-editor of Volume 15, Chapter 2 of the Tennessee Practice Series on Separation and Marital Dissolution Agreements.
Prior to forming Lindsey + Amonette + Nemer, PLLC, Kristen practiced law at Nashville law firm Dodson Parker Behm & Capparella PC and also served as a law clerk to the Honorable Marietta Shipley, former judge of the Second Circuit Court for Davidson County, Tennessee.
A Tennessee native, Kristen enjoys living and practicing law in middle Tennessee.  Born in Memphis, Kristen graduated from St. Mary's Episcopal School and Rhodes College before attending the University of Tennessee College of Law and moving to Nashville.
---
Lindsey + Amonette + Nemer, PLLC
It has been said that people who are experiencing a divorce or a divorce-related problem endure a level of stress that is equaled in life only by the stress that is felt by the death of a loved one. In our extensive experience, unfortunately, nothing could be more true. Our clients need us to listen to them and then advise and guide them through difficult situations. That and only that is exactly what we do every day and for each and every client at LINDSEY + AMONETTE + NEMER, and it is a distinct honor and a privilege to do so at every step with a compassionate, reasoned, and individualized approach to each client's specific issues and goals. We listen to our clients and work very closely with each of them to tailor client-specific strategies to resolve their family law, estate planning, and probate issues in the most efficient and effective way that we can.
We founded LINDSEY + AMONETTE + NEMER in 2010 because we wanted to help good people in their most pressing times of need. With well over 20 years of extensive legal experience, we not only know how to effectively address our clients' legal issues, but we also know how to listen to each client's individual priorities and needs in order to most efficiently guide that client to an effective resolution.