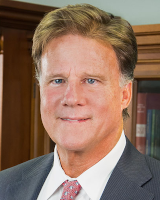 Matthew S. Nugent
Firm: Nugent Zborowski
Location: North Palm Beach - FL
631 U.S. 1, Suite 402




North Palm Beach, FL 33408




USA
Tel : (561) 844-1200

Fax : N/A

Email : mnugent@nugentlawfirm.com

I would like to take this opportunity to introduce myself, and tell you about my background and experience.
I am Board Certified divorce and family law and a specialist in Marital and Family Law by The Florida Bar Board of Legal Specialization and Education. I am Fellow in the American Academy of Matrimonial Lawyers. I am also a member of The Florida Bar Association, Palm Beach County Bar Association, and American Bar Association.
I have been practicing law continuously in palm beach county since 1982, specializing in representing persons involved in dissolution of marriage actions. I am honest, forthright and dependable. I am an aggressive and skillful advocate for my clients. I deliver the highest levels of service while counselling my clients in a constructive manner towards positive, long-term results.
Areas of Practice
My law firm specializes in representing individuals in all aspects of marital and family law including: prenuptial and postnuptial agreements, high-asset divorces, alimony, child custody, child support, determinations of paternity, business valuations, asset valuations, habeas corpus, domestic violence and modifications and enforcement actions.
My law firm is AV rated by Martindale-Hubbell, the most authoritative resource for information on the legal profession. AV is the highest rating given out by Martindale-Hubbell. The attorneys in my firm are experienced in the resolution of complex family law matters including high conflict dissolutions, contested custody disputes and relocation cases, determinations of financial obligations such as alimony, child support and the valuation of assets including businesses.
Education
I am a native West Palm Beach, Florida, and a 1975 graduate of Cardinal Newman High School. I learned an Accounting degree from the University of Florida in 1979 and graduated from Stetson University College of Law in 1981.
---
Nugent Zborowski
The Law Offices of Nugent Zborowski assist Palm Beach County families get through the challenging issues related to family law matters. Whether you and your spouse are contemplating a divorce, or you are interested in discussing a prenuptial agreement, our team of legal professionals guides you through any family law matter with compassion and experienced legal counsel.
We understand that your first priority is ensuring you and your family are happy and safe. Therefore, we listen to your thoughts, needs, and concerns to develop a legal strategy to achieve your goals during this life-changing process.
Our accomplishments in Divorce, Alimony, Property Splitting , Child Custody and Child Support in Florida all signify the experience and success that we bring to our clients' cases. We will take the time to help you explore all of your options, explain any ramifications of your decisions and reach a conclusion that is in the best interest of you and your family. If you are contemplating divorce in Florida we highly encourage you seek advice from a family law attorney.  Matters involving divorce can be complex and life impacting decisions have to be made during periods of incredible stress and emotion. It is important to have a family lawyer to provide sound advice and protect your rights.