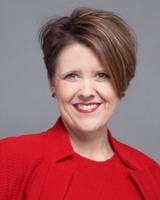 Michelle May O'Neil
Firm: O'Neil Wysocki P.C.
Location: Dallas - TX
5323 Spring Valley Road, Suite 150




Dallas, TX 75254




United States
Tel : 972.852.8000

Fax : (214) 306-7830

Email : michelle@oneilattorneys.com

Michelle May O'Neil has 25 years' experience representing small business owners, professionals, and individuals in litigation related to family law matters such as divorce, child custody, and complex property division. Described by one lawyer as "a lethal combination of sweet-and-salty", Ms. O'Neil exudes genuine compassion for her client's difficulties, yet she can be relentless when in pursuit of a client's goals. One judge said of Ms. O'Neil, "She cannot be out-gunned, out-briefed, or out-lawyered!"
Ms. O'Neil became a board certified family law specialist by the Texas Board of Legal Specialization in 1997 and has maintained her certification for 20 years since that time. While representing clients in litigation before the trial court is an important part of her practice, Ms. O'Neil also handles appellate matters in the trial court, courts of appeals and Texas Supreme Court. Lawyers frequently consult with Ms. O'Neil on their litigation cases about specialized legal issues requiring particularized attention both at the trial court and appellate levels. This gives her a unique perspective and depth of perception that benefits both her litigation and appellate clients.
Ms. O'Neil has been named to the list of Texas SuperLawyers® for nine straight years, 2011-2019, a peer-voted honor given to only about 5% of the lawyers in the state of Texas. From 2014 to 2019, Ms. O'Neil received the special honor of being named by Texas SuperLawyers as one of the Top 50 Women Lawyers in Texas, Top 100 Lawyers in Texas, and Top 100 Lawyers in DFW. She was named one of the Best Lawyers in America for 2016, 2017 and 2018 in appellate law and, most recently, made the DMagazine list of the Best Lawyers in Dallas 2019 in appellate law.
Author and Speaker
A noted author, Ms. O'Neil has written her second book Basics of Texas Divorce Law, which is on its third edition in 2016 and available through LuLu.com. Her first book,All About Texas Law and Kids, was published in September 2009 by Texas Lawyer Press (now out of print). The State Bar of Texas and other providers of continuing education for attorneys frequently enlist Ms. O'Neil to provide instruction to attorneys on topics of her expertise in the family law arena.
---
O'Neil Wysocki P.C.
At O'Neil Wysocki P.C., our Dallas divorce and family lawyers have more than 65 years of combined experience representing individuals and families throughout Texas. Our boutique firm is dedicated to providing clients with knowledgeable, professional, and effective legal counsel for all types of family law cases.
Regardless of whether you need assistance with a divorce, paternity action, child custody dispute, post-decree modification, or another family law case, you can be confident that we will use our extensive legal knowledge and resources to pursue your ideal outcome for your case. Our team and staff understand the stress and difficulties our clients face during their family law cases, which is why we tirelessly strive to provide the outstanding counsel and advocacy they deserve.