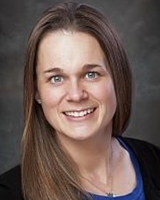 Sara Berg
Firm: BROWNING, KALECZYC, BERRY & HOVEN, P.C.
Location: Helena - MT
800 N. Last Chance Gulch Suite 101




Helena, MT 59601




USA
Tel : (406) 443-6820

Fax : (406) 443-6883

Email : sara@bkbh.com

Sara's practice is comprised almost exclusively of family law and civil defense litigation. She has been recognized in both of these areas; she was selected by the American Society of Legal Advocates as one of the top forty litigators in Montana under the age of 40 and has been named by Mountain States Super Lawyers in the field of civil defense litigation since 2015.  She has also been named one of Superlawyers "Top 50 Women" for the Mountain States.  Sara was voted one of "Helena's Best" Attorneys in 2019.  She was also named a "Top 10 Attorney" for the State of Montana by the National Academy of Family Law Attorneys in 2015. Sara has been rated by her peers as an "AV Preeminent" attorney according to Martindale Hubbell. Her primary areas of litigation include family law and medical malpractice defense.
Personal:
Sara Stanton Berg was born and raised in Big Rapids, Michigan. She attended Miami University in Oxford, Ohio, where she ran Women's Division I Cross Country and Track. She graduated from Miami of Ohio in 1997 with a B.S. in Social Studies Secondary Education. Sara moved west to Montana and started law school at the University of Montana in 1997 and was lucky enough to work at the Missoula County Attorney's office as a law student.  She was hired by BKBH during her third year at the end of 1999 and has been with BKBH ever since. She is a partner and works at the firm's Helena office.
Sara is the mother of three busy kids. When she is not watching football, basketball, swimming, piano or theater performances, she enjoys reading, running and playing the piano. Sara is the senior warden of the chapter at St. Peter's Cathedral, and works with Montana Legal Services to provide pro bono services to family law clients in the Helena area.  Sara has also recently joined the board of Helena Community Foundation, a local non-profit organization founded by her late senior partner, Steve Browning.
---
BROWNING, KALECZYC, BERRY & HOVEN, P.C.
Thank you for your interest in Browning, Kaleczyc, Berry & Hoven, P.C. Since its beginnings as a small office with two attorneys in 1982, BKBH has become recognized as a leading law firm for Montana businesses and individuals. We take great pride in providing our clients with premier legal services. Our professional services are directed by our Guiding Principles as we consistently strive to represent our clients the way we would want to be represented ourselves.
A defining trademark of Browning, Kaleczyc, Berry & Hoven, P.C. is our commitment to teamwork. Our firm's teamwork qualities have been consciously instilled in all of us as part of our culture. It starts as early as during the hiring process. We seek to maintain a "family environment" in our offices. We believe this is the recipe for longevity with our employees.
Further, we use our teamwork structure to provide the best value to our clients. Our goal is to have the work for the client done by the professional who can provide the best value to the client rather than to our law firm.
At BKBH, we build our teamwork culture by hiring and training talented associate attorneys, paralegals and support staff. We want our new attorneys to learn early how much more effective it is for our client to have legal teams that work closely together. Our new attorneys learn to listen more closely to the suggestions and criticisms of their colleagues and their clients. We have educational and mentoring programs in place to ensure we continue to provide quality legal services at affordable rates.